Smart Technical Support
The consequences of a delay in operation of the computer system and the inability to solve problems as soon as possible are practically always reflected in the financial loss, but also in the loss of credibility of the organization due to inability to provide quality service to its business partners or clients.
It also requires the company IT department to act pro-actively and not only to provide uninterrupted computer work to employees but also to propose effective solutions to identified business problems using technologies at its disposal or introducing new ones.
Right people in the right place
Continuity with the work of the server infrastructure, but also the user workstation themselves, quick reaction to new problems, and constant examination of problems with which the company is faced to propose an optimal solution, are just some of the challenges facing you as a manager or member of IT department.
In such cases, support is extremely important. A team of experts who make Smart Technical Support has more than 15 years of experience in providing professional services of high-skilled computer consulting, realization projects to improve existing or introduce new technologies for business use and provide technical support services. This team brings together above mentioned things and is completely oriented towards you as a user.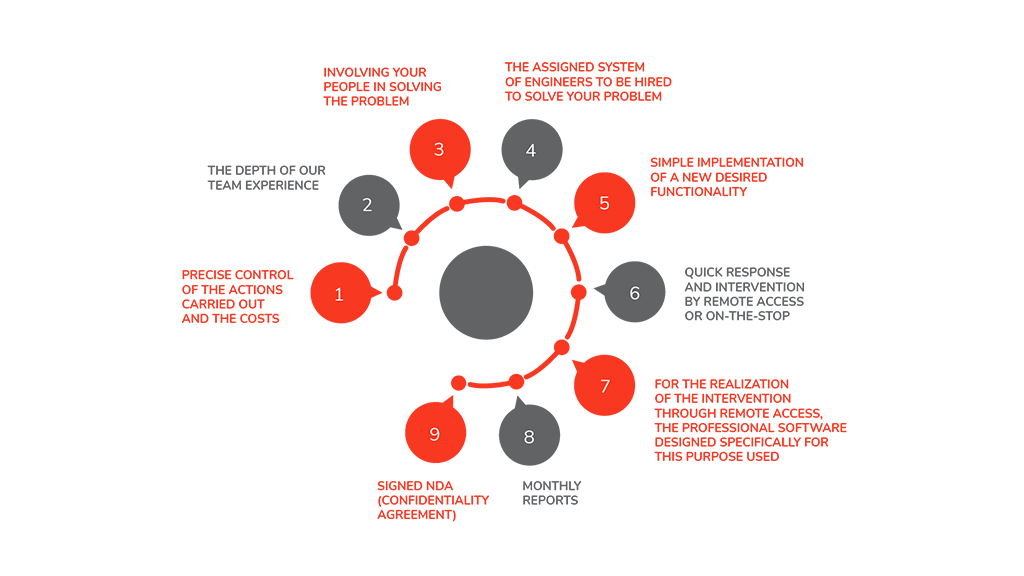 Implementation of services and servers

Implementation of Microsoft Server Core Services

The implementation of the Microsoft Server Core service involves the implementation of the basic Microsoft Windows Server Core service from the beginning (Green field). This implies that the client does not have implemented Microsoft Windows Server Core infrastructure and that the basic server infrastructure and service are implemented from the very beginning.

Implementation of Office 365 / Microsoft 365 services

This service is intended for companies that want to implement their IT services in the Public Cloud, without too much need to invest in on-premises hardware and software. This includes the Cloud online implementation of the Microsoft service and Cloud Hybrid deployment – integration of the online service from the on-premises.

Implementation of Exchange Server

This service is intended for all companies that want to implement one of the versions of Microsoft Exchange server – Microsoft platform for email communication, calendars, contacts, scheduling and collaboration.

Implementation of SharePoint server

This service is intended for all companies that want to implement one of the versions of Microsoft SharePoint server (SharePoint versions 2016, 2019). Microsoft SharePoint is collaborative web platform that facilitates for users to use wide range of functionalities used to manage jobs and tasks that are done together in larger or smaller groups. SharePoint provides unique web portal within which any number of pages (portals) can be created.

Implementation of Remote Desktop Service

The implementation of Remote Desktop Service ensures that the client has access to desktop and application services on one centralized server platform. The introduction of such a service in the IT infrastructure contributes to a much higher utilization of hardware and greatly reduces the need and cost of licenses and maintenance.

Implementation of Virtual Core Infrastructure

Server virtualization allows multiple different virtual servers to be served on a single physical server, optimizing the hardware system, and increasing its efficiency. The introduction of such a system contributes to much higher utilization of hardware and greatly reduces the need and maintenance costs.

Migrations

The degree of reliance on IT solutions is extremely high and therefore the termination of some of the "business critical" solutions, such as a mail system, is out of the question. On the other hand, it is necessary to improve existing systems to take advantage of new advantages and thus be ahead of your competition.

Migrations are services that have a high level of criticality and therefore must be done very professionally and with quality. Experience is crucial, and ours is based on a large number of migrations:

• Desktop platforms
• Existing Microsoft server infrastructures in a Hyper-V virtual environment
• Exchange Server
• SharePoint Server

IT Security

We must not give up on the constant improvement of protection our most important resources – data, and protection of computers and computer networks. Through a range of solutions and services, we have enabled safer business operations and the establishment of security policies in organizations of all sizes and activities.

Health Check

Services that can very quickly point out any problems with the Microsoft solution that you have implemented. Very often a small thing can significantly improve the efficiency of work, and only finding and discovering it can be a painstaking and uncertain task. In addition, it is good to check the "health" of the solution from time to time and in that way gain even more security and trust.

Proof Of Concept

Proof of concept (POC) is the realization of a certain method or solution with the idea to show the justification or demonstration of the solution in the given circumstances, the purpose of which is to check whether the solution has the potential to be useful.

Safe

As part of the Microsoft 365 package, topnotch security defense has been built. Malware protection and spam filtering to keep emails from ubiquitous threats.

Support when you need it

We are here for you 24/7.